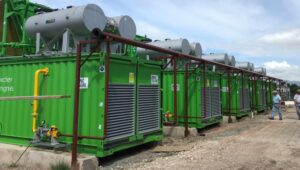 The Crescent Power Systems team was tasked with providing an electrical equipment solution to tie five propane fired engine/generator sets to the distribution system at a Jamaican University. Early on, loading and load shedding were identified as important factors to address. 
Our scope of supply on this project encompassed two generator step-up transformers and a pad mount transformer as well as an equipment package that included a 60′ x 16′ enclosure, 24kV switchgear, 6.3kV switchgear, mimic panel and SEL load shed system. 
The equipment and controls that Crescent Power supplied are the brains of this power system. This project posed its fair share of challenges, but our team is satisfied with the custom solution we offered and proud to have completed it successfully!