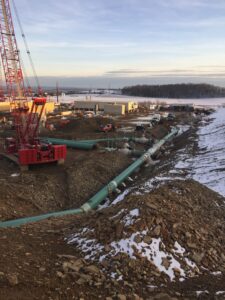 Crescent Power Systems recently completed their scope of work for several compressor stations on a pipeline connecting natural gas from the Marcellus with markets in the Mid-Atlantic and Southeastern U.S.
The customer came to us in the concept phase of the project based on our experience with pony motor applications. They appreciated our engineering and project management team's design and execution value proposition.
Crescent Power was chosen as a partner to provide a 70MVA HV substation and integrated power building package consisting of 15kV switchgear, 15kV: 4160V VFDs with synchronous transfer, along with the motors feeding the compressor packages. Our testing and field service crew performed highly sophisticated testing and commissioning on all the equipment before the buildings shipped to minimize field work, followed by onsite field services and support until the motors were up and running.
Our team is honored to have successfully played a part in the building of the largest volume natural gas pipeline system in the United States – now moving 15.8 billion cubic feet per day.