Earlier this month, our employees and their friends and families gathered for our annual CPS Fest! Hosted on the second Sunday of New Orleans' annual Jazz Fest, this event brings our team and their loved ones together to enjoy food, music, games and each others' company. It's one of our favorite days of the year!
We had even more to celebrate at this year's event as we mark Crescent Power Systems' 25th anniversary in 2019! We commemorated the occasion with a bigger and more fun event than ever before.
Our team members from all locations brought their friends and family to our New Orleans office to enjoy the celebration. We even got to meet our two newest additions to the CPS family – Claire Curtis (born to CPS team member Connor and his wife Christy in January) and Celina Duracher (born to CPS team member Candice and her husband Dustin in February).

We enjoyed music from the Phat Hats, Geaux Live DJ and a special performance by our very own CPS team member Brandon Dellucky. We decked out the outdoor space next to our office with a stage, tents, tables, chairs and even a balloon display as well as pinatas and centerpieces decorated with our anniversary logo.
Since this year's fest fell on Cinco de Mayo, tacos and chips and salsa were on the menu as well as jambalaya, snoballs, other treats and snacks – even a whole hog. To make the event fun for the whole family, we also had a bounce house, basketball, corn hole, a teeter totter and other kid-friendly games and activities.
Extending the celebration throughout the month, we added an additional office location and a new team member in May, too!
We are excited to announce that we've expanded our physical presence to include an office on the Northshore! Located in the heart of downtown Covington, Louisiana, this new office space now houses part of our project management team.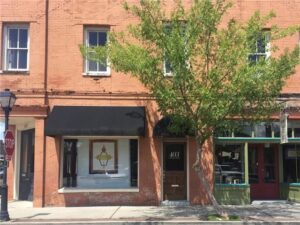 With the newest addition, Crescent now has three office locations: Covington, Louisiana (403 N Columbia St, pictured here); New Orleans, Louisiana, which serves as our headquarters (4317 Canal St); and Houston, Texas (1415 N Loop W).
We've also recently expanded our team, welcoming Cody Sherman aboard just last week! Based out of our Houston office, Cody will serve as our Quality Assurance Manager.
Cody's primary role is to serve as our on-site team member responsible for the successful installation of our projects. He participates in the evaluation of project drawings, with a focus on design optimization, effective application of electrical standards and mechanics of safety.
He also works to forecast and refine project execution plans throughout the building phase of the project life cycle and develop plans to ensure successful project testing, delivery and commissioning.
We know that Cody will be a valuable asset and we're excited to have him as part of the team!