Last month, our President and CEO, Matt Colosino, and our Channel Partner Program Director, Connor Curtis, traveled to Monterrey, Mexico to attend GE's 2019 Grid Solutions and Prolec Channel Meeting. 
The meeting brought together GE team members and channel partners from across the country to network with each other and to learn more about the broad product portfolio available through GE Grid Solutions. The group also got to tour the GE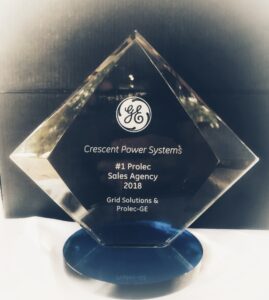 Prolec factory, located in Monterrey, and learn more about their transformer offerings and the manufacturing process. 
Crescent Power and GE Grid have partnered together to offer the most complete selection of high-voltage power equipment for our customers' transmission and distribution projects. We've also partnered to offer Prolec's complete product line for industrial, renewable and utility applications across the Gulf Coast region and beyond. 
To top off a great week of networking with some of our industry's best and brightest and learning more about the wide range of products available to our customers through our partnerships with GE, Crescent Power was recognized as Prolec GE's 2018 Top Sales Agency! We're incredibly honored by this award and will continue to work hard on behalf of our partners and our customers to make 2019 an even more successful year!